Google Summer of Code (GSoC) is a program that offers student developers stipends to write code for various open source projects. To participate, FUDforum first needs to apply to be accepted as a mentoring organization.
Applying to be a mentoring organization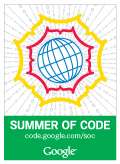 Please help us to answer the following questions:
Organization Name
FUDforum
Description
FUDforum (Fast Uncompromising Discussion Forum) is a free and open source web discussion forum released under the GPL (version 2) license that is written in PHP and can be used on virtually any operating system. FUDforum combines an extensive feature set while maintaining the ability to generate forum web pages extremely fast. The forum includes i18n and templating support allowing for a complete customization of its output as well as a very capable group based permission system. FUDforum can also act as a Mailing List Manager, USENET newsreader and even an XML Feed Aggregator (all bidirectional). This will allow you to build an instant community and consolidate all your messages into a single system. Another interesting angle is a scaled down version, called FUDforum2Go, that can run from a CD-ROM or USB stick. For more info, please visit our wiki at http://cvs.prohost.org/
Home page
Main Organization License
GNU General Public License (GPL), version 2.
Why is your organization applying to participate in GSoC 2010? What do you hope to gain by participating?
We hope to grow our developer base as we generally get more requests for new features than what the current developers can deliver. This will in turn create better versions of the FUDforum software and bring new and exciting features to our user base. Besides, we are eager to meet new talent, introduce them to the community, and show them that FOSS development, although hard work, can be fun and extremely rewarding.
Did your organization participate in past GSoCs? If so, please summarize your involvement and the successes and challenges of your participation.
No, fudforum.org did not participate in past GSoCs.
If your organization has not previously participated in GSoC, have you applied in the past? If so, for what year(s)?
Not applicable.
If your organization has not previously participated in GSoC, have you applied in the past? If so, for what year(s)?
No, this is the first time we apply.
What is the URL for your ideas page?
http://cvs.prohost.org/index.php/GSoC_Ideas
What is the main development mailing list for your organization?
fudforum@googlegroups.com
Note: The development of FUDforum is discussed on its support forum at fudform.org and not on the above mailing list. Users can subscribe to any particular forum on fudforum.org to receive E-mail notifications of posts. This list (currently empty) was created to make it easier to get hold of FUDforum staff.
What is the main IRC channel for your organization?
#fudforum on irc.freenode.net
Does your organization have an application template you would like to see students use? If so, please provide it now.
Yes, it's available at: http://cvs.prohost.org/index.php/GSoC_Student_Application
What criteria did you use to select these individuals as mentors? Please be as specific as possible.
Selection was based solely on fact that a developer or experienced user volunteered to act as a mentor. All mentors are trusted and long standing contributors and they all have great knowledge of FUDforum's code base.
What is your plan for dealing with disappearing students?
We will try to select students that are unlikely to disappear; schedule regular follow-ups between students and mentors; try to keep them motivated; and ask students to provide regular progress updates to the community.
What is your plan for dealing with disappearing mentors?
The administrator will regularly check with mentors to ensure that projects are making progress. We will not only select reliable and committed mentors, but also ensure that we have mentors on stand-by in case we need a replacement.
What steps will you take to encourage students to interact with your project's community before, during and after the program?
We will try our best to make the students feel welcome and appreciated and ensure that they publicly receive credit for their work. We will also organize regular feedback meetings on IRC and/or encourage students to provide feedback on the support forum or wiki (depending on their preference).
What will you do to ensure that your accepted students stick with the project after GSoC concludes?
We will provide continued mentoring to students, even after the program concluded. In addition, we will try to keep in contact and encourage students to use the software in their own projects.
Who will be your backup organization administrator?
One of the following users:
Ilia Alshanetsky (iliaal)
Eric Sarakaitis (esarakaitis)
James Morrison
Frank (naudefj)
Please add your name if you are willing to help.
Is there anything else you would like to tell the Google Summer of Code program administration team?
We would very much like to participate and trust that you will favourably consider our application. We are looking forward to being part of GSoC 2010!